Broadway at The Beach is Myrtle Beach's one stop shop for family fun and entertainment. Located in the heart of the area, this venue is hard to miss. Broadway combines entertainment, dining, and nightlife in one convenient place. Whether you get stuck with a rare rainy day at the beach or you just need a break from the sun and the sand, you will definitely want to check out everything that Broadway has to offer.
Broadway at the Beach Attractions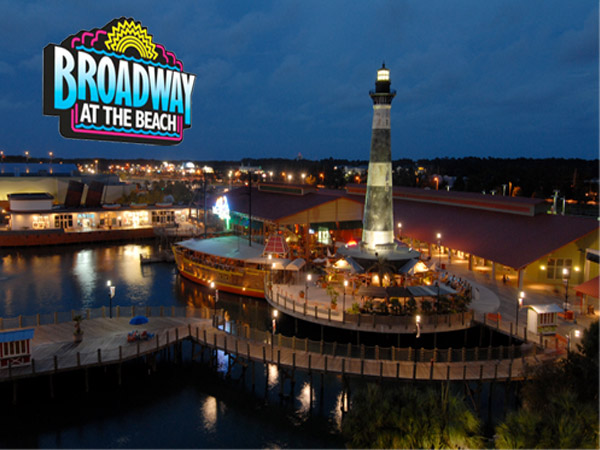 Guests looking to take advantage of the balmy beach weather will enjoy the variety of outdoor attractions offered at Broadway. Grab tickets to a Myrtle Beach Pelicans game, a summer-time family favorite, or put the petal to the metal at Broadway Grand Prix, an elaborate outdoor go-kart track and arcade. Or, get in a little wet n' wild fun at Myrtle Waves Waterpark, the state's largest outdoor waterpark attraction.
If you get stuck with a rare rainy beach day – fret not! Broadway also offers an array of indoor attractions, perfect for escaping less than desirable weather. Options include making a few friends under the sea at The Ripley's Aquarium, hands-on activities at WonderWorks Museum, and even oversized movies and popcorn at The Big D Theater.
Broadway at the Beach also offers a wide array of live entertainment options, like Legends in Concert and Palace Theatre. Each venue offers new and exciting shows each season, giving guests something to look forward to each year!
Broadway at the Beach Dining
All of that running around is bound to work up an appetite and you are in luck – Broadway also provides plenty of dining options sure to please even the pickiest palate.
Guest seeking a more casual experience will enjoy the lively atmosphere and juicy burgers at Johnny Rockets. Or, grab some succulent BBQ at Sweet Carolina's. Other casual dining options include favorites:
· Chuck & Duck's Sports Bar
· Rooster's
· Jimmy Buffet's Margaritaville
Guests can also enjoy a few local brews and great happy hour deals at Liberty Steakhouse & Taproom.
If you are looking to sit down and enjoy a more decadent experience, look no farther than Landry's Seafood. This New Orleans classic offers a Cajun twist on deep-south favorites. Other upscale options include:
· King Kong Sushi
· Key West Grill
· Yamato Japanese Steakhouse
Broadway at The Beach offers the perfect solution for those looking for a one-stop shop for entertainment, events, and dining. Be sure a trip to this family friendly mecca is a part of your Myrtle Beach vacation!
Check out our Myrtle Beach page for more Myrtle Beach area attractions, dining, & more!